Caan Berry is highly renowned in the world of Betfair trading and has been trading horse racing professionally full time since 2009.
So when he approached us to take a look at some of the trading products he had put together, we were more than happy to get a review underway.
We started off with his most popular product, the "Video Pack Course", which has 23 modules and 136 videos available to view on desktop or mobile devices.
We will go into more detail about what the course includes but first, here is a little more about Caan and his background.
---
Who is Caan Berry?
Caan Berry hasn't always been a professional trader. Actually, one of his first jobs was working 16-hour shifts flipping burgers at a fast food restaurant. After that he spent several years serving in the Army, but after experiencing a life-changing situation he decided to leave to focus on building a life for his family.
He stumbled upon Betfair trading at a time when there wasn't much advice to be found, so he learnt the hard way, committing himself to studying the markets and reading through sucessful trader's blogs.
Fast forward to now, he is one of the most successful sports traders and earns an income that most people dream of.
Caan has been featured at several main betting exchanges such as Betfair, Betdaq and Matchbook and has also been on radio stations including BBC Radio 4 and Talk Radio.
He has been a part of several events, featuring at Betfair's "Trade Like A Pro" campaign in 2014 and presenting at the Betfair-endorsed Pro Traders Day in 2019. He was also a guest speaker at the Matchbook traders conference.
---
What is included in Caan Berry's Video Pack Course?
The course has structured tutorials that can be re-visited and re-watched anytime, with pausing and screen highlights available. Any future updates to the course are included free of charge. As a video pack member you also have access to the private community full of serious traders, including Caan himself.
Course module titles include:
✓ Video Pack Introduction
✓ Basics: Getting Started
✓ Mindset: Key Points Before You Do Anything
✓ Market Awareness: Situations and Market Dynamics
✓ Executing Your Trades, Tips and Tricks
✓ Managing Risk: Doing What's Right
✓ Morning Routine: Spotting Early Clues
✓ Anticipating Drifting Prices
✓ Additional Indicators External to Betfair
✓ Using Significant Changes to Our Benefit
✓ Trading Tipping Services
✓ Scalping Broken Down
✓ Swing Trading Examples
✓ Multiple Trading Styles
✓ How to Spot Genuine Money
✓ Avoiding and Using Market Manipulation to Your Benefit
✓ Trading Volatile, Erratic Racing Markets
✓ The Market Spoofer
✓ Specific Seasonal Opportunities
✓ Trading the Irish Betting Markets
✓ Backing to Lay Horses
✓ Illiquid Trading on Greyhound Markets
✓ Trading Large Racing Meetings
---
Caan Berry Video Pack Course Review
Our guest reviewer, Simon, has been trading horses for several years so he already has a good understanding of some of the concepts covered in the course. He went through the video pack and has provided a detailed write-up of his thoughts on it.
Simon's Review
Caan is a very well-known trader to anyone who has searched for "how to" videos when it comes to trading on Betfair.
His video pack, consisting of 23 modules, is a comprehensive learning resource, taking much of what is readily available online and expanding on the "whys" and the "hows".
Like most new traders many years back, I watched his videos religiously but always felt there wasn't the detail to allow me to replicate what I saw on screen. This video pack delves deeper and lays out from start to finish everything you need to begin trading on Betfair successfully, but whether you can actually do that is another question.
One word of caution, Caan uses Geeks Toy, which is a very good piece of paid for software. The video course shows him using Geeks Toy extensively and many of the indicators and market elements he points out are seen within this software. For beginners, it may well be worthwhile signing up for the free trial of Geekstoy so that his examples can be easily followed.
Getting Started
Crucially, Caan begins the course by covering the basics of getting started on Betfair, what an exchange is and how to place bets. Mind-set is also discussed, but as an experienced trader and knowing the importance of this, I would have liked to see some more coverage in this area.
The next several modules cover various strategies, understanding market moves and how to scalp and execute swing trades. I did find that his section on scalping was particularly interesting, as Caan employs a technique different to the one many people demonstrate and use themselves.
These strategies are gone into in some depth with plenty of examples and form, which for me was the most beneficial element of the entire course.
Aside from the main strategies, Caan does include some useful information regarding trading greyhounds, festivals, Irish Racing and some other interesting elements.
All useful information to get started with but further learning would be necessary. Essentially, this course would be ideal for beginners or even intermediate traders that might need to go back to basics or view things from a possibly different perspective.
Challenges with the Course
I did have one issue with his "back to lay" system however, which is a well-known system that many traders employ on a regular basis and make good profit from.
Caan posts his tips daily for horses he believes will race prominently from the off. The concept being to back just before the off and lay as the price naturally drops when the selection takes the lead.
The problem is, with presumably so many traders following his tipped selections, the market doesn't behave in the desired way.
Firstly, just before the off, many of his tipped selections would be heavily backed in. I made a number of good profits backing several minutes from the off and laying once all the other traders had backed the price in during the final 30 seconds or so.
If the selection did race prominently, its price seemed to only fall a tick or 2 before being layed heavily, again presumably all his followers trying to exit their trades – even if the horse was still running well in the lead.
It comes down to an issue of liquidity, and the price only has one way it can go when so many are laying in play like this.
Caan does caution against backing every horse he tips and advises traders to look for other indicators the selection may race prominently, but I found every single one of his tipped selections I followed over several weeks would be indiscriminately backed.
A sign of FOMO in my opinion. In the end, I found the only purpose his tipped selections served was to let me know which horse not to actually get involved with in play.
I also found some more challenges with this course, in that a couple of the videos were from markets several years in the past. The problem being that Betfair markets are constantly evolving and trading successfully in the past doesn't mean you can use the same method now.
I then found some of the videos showed Caan making modest profits, albeit ones most people would be happy to take. The issue was the liability. Some of the liabilities necessitated a £10k+ bank and this isn't discussed in detail before hand.
It's quite a leap of faith to be following what is essentially a beginners video and then enter a trade with £10k liability attached in an effort to make £10-£20.
How Much Money Can You Make?
When it comes to how much you can make from this course, unfortunately the answer will most likely disappoint.
I spent some time implementing the strategies outlined in the course, but I have chosen not to include my results. Reason being, the results I have aren't necessarily reflective of the info gained from the course and differ greatly based on experience level. I really do believe regardless of knowledge level, experience is the most important factor affecting results by far.
Ultimately, watching, understanding and reading markets will take time and this is what allows a trader to be profitable long term. Maybe this takes 6 months, or maybe it takes a year, but I suspect I would be sorely disappointed if as a new trader I bought this video pack and expected to make money at the end of it.
Go into this with the right expectation of learning the basics however and the core strategies and trading elements Caan demonstrates will serve as a useful starting point to becoming a much more successful trader.
Final Thoughts
Personally, I didn't discover anything in this video pack that was necessarily new to me, meaning that the majority of the information can be lifted from several well known traders' youtube videos and other sources/forums at no cost.
The video pack does have the advantage of being concise and all in one easy to follow package and that is essentially the decision that has to be made when it comes to no cost resources vs. this training course.
Also, you would not get the same level of support from free resources as you would from this product.
When you complete the course, you have a good solid framework of information to apply to Betfair markets and can use the strategies in any number of different scenarios.
---
Review Summary
For beginners looking to start their trading journey or intermediate traders looking to brush up on their knowledge, this course does the job. It also comes with the added support from Caan Berry himself and a trading community forum to discuss trading strategies and techniques.
The key point, as Simon explained, is that you cannot expect to complete the course and become a profitable trader over night. This takes a lot of time and experience, making mistakes and hopefully learning from them!
It is a good starting point and practicing the included strategies will over time give you an understanding of how the markets work and how you can profit from them.
---
Other Systems and Services which Passed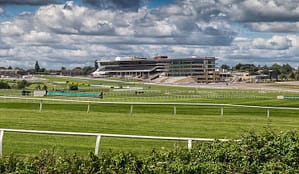 Cotswold Racing Review: Profitable BSP Horse Racing Tips
RaceStatsApp Review: Horse Racing Betting & Analytics App
---
Goal Profits Rating

Rated 3.5 stars

Very Good
---
Caan Berry Video Pack Course

Reviewed by:

Published on:

Last modified:
---
Our review of Professional Betfair trader Caan Berry's video pack course, complete with strategies and techniques to trade Betfair horse racing markets.