RaceStatsApp has redefined horse racing betting by focusing on odds data rather than horse, jockey or trainer form.
Although the app has been around for the past four years, the idea and development has been going on for more than ten years to get it to where it is today.
It was developed by Mike, who calls himself the Innovator-in-chief, and Hamid, who is his software architect.
Mike had the idea of giving up on form reading and analysing odds data instead. Rather than contemplating a horses form, the racing conditions and jockey or trainer details, it is purely based on market trends.
Betfair Exchange is often seen as the best way to determine the probability of an outcome for horse races and other sporting events. Whilst it might get it right on average, the idea is to spot a race that isn't lining up to that average and betting accordingly.
The app holds all of the data that you need to be able to do this and there is a collection of tutorial videos that show you how to make use of it.
Membership gives you access to the RaceStatsApp, which is made up of six components:
It works on races from the UK, Ireland and Australia, but will require a different subscription for the Australian races.
You also get access to the Telegram group where there is a community of other members, so there's plenty of help available and Mike is always on hand to assist as well.
There is a lot to learn, but Mike says that those who put in the time to learn it inside out never leave.
One member said that it took him a while to get used to the new way of thinking about betting, but "when data simply tells you a favourite cannot win, and it's even money, or even shorter, you cannot deny its power.".
We haven't seen anything like RaceStatsApp before and it seems to be a completely different concept to everything else out there. We look forward to learning more about how RSA works and hopefully making some profit along the way.
---
Getting Started with RaceStatsApp
The first step to get started with RaceStatsApp is to watch all of the training videos and this is an absolute must.
We actually watched them several times, whilst tinkering with the software at the same time. There is a lot to learn and it can be overwhelming at first and without watching the videos you would struggle to find your way around.
The video playlist is located here and you don't have to be a member to take a look, so you can get a good idea of what the software is about before signing up.
After becoming more acquainted with the software, you can proceed however you wish really, depending on how you want to use it. There are so many possibilities, it's just a case of finding what suits you.

Mike likes to look for outsiders to win races and generally doesn't back favourites.

Most in the chat group use a similar strategy but everyone has their own way of staking and using insurance to fit their own betting style.

We decided to look for value in outsiders rather than betting on favourites as part of our review, as it seemed to the be the most popular way to use the data.

Our next step was to try this out in the BSP Training section, where you can play the races as if you were betting for real.
---
BSP Training
Think of BSP Training like stepping back in time, choosing any race since 2013 and betting play money on it to see what would have happened.

It's such a powerful feature and unlike anything we have seen before.

We spent a lot of time in this section, firstly to learn how to spot value opportunities and secondly, to figure out how we would bet on the races.

After a lot of experimenting, we came up with a staking strategy that seemed to work for us.

In in nutshell, it involved backing the runners that we thought were most likely to run and looked to be good value and then setting up some insurance bets. The types of insurance that we used varied from race to race, usually involving small back bets at higher odds on the favourites and/or laying outsiders at low odds.

You would be amazed at how many times the odds on the favourite would shoot up in-play and then still go on to win it, or outsiders odds moved to below 2.00 and then dropped off.

In these scenarios we could get out of a losing trade easily. Of course, it doesn't always work but it did save us on many occasions.
BSP Training - Trading Example 1
As an example of BSP Training for this review, here we stepped back to 5th March 2022 (just a random date) and flicked through the day's races until we found something that could be a potential race to bet on.

You will find out more about what races to look for in the training videos.

The race below came up as a potential, so we went ahead with the staking strategy that we had been testing.
The data told us that the 4th fav had won this race before when the favourite was priced within 5% of these BSP odds.

That didn't mean 4th fav was nailed on to win, but there were no green dots on the 1st and 2nd fav within 5-10% so we felt confident enough to bet against them.

We lined up our bets and insurance and hit the "Run Race" button. This simulated what would have happened, including matching bets based on the in-play high and low odds.

It turned out that 4th fav did win, and we would have pocketed £36.50 profit having skewed our bets toward 4th and above.
BSP Training - Trading Example 2
We played this example right after the previous one, so that was two nice winning trades in a row.
Again the data was strong on the 4th fav for this race and the sandwich bar below was looking good for a potential trade.
We opted for a slightly different insurance method for this race and it worked well again, giving us a profit on all runners but more on runners 3-6.
Another £30.50 profit made and an easy £67.00 from the two example trades.
We actually played three other races before these that scratched (broke even), showing that it's definitely worth placing those insurance bets.
BSP Training is the best way to learn how to use RaceStatsApp and it's advisable to stay in this area until you are consistently making a profit.
We tried some live trading with BSP Check to get a feel for how we would get on having to make quick decisions. It was certainly trickier, but it's something that comes with practice.
Our next step was to keep working with BSP Training to continue learning and move more into betting for real. We would also be taking a better look at Bet Finder to improve our race selection and ability to source potential big odds winners.
---
Live Betting with BSP Check
---
Other Systems and Services which Passed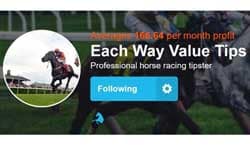 Each Way Value Tips Review: Horse Racing Betting Service
Each Way Value Tips was regularly topping the leader board for overall profit and boasted a higher long-term ROI than many of the other established horse racing tipsters at the time. It was easy to see why with an overall profit of 108.69 points at an ROI of 12.4% at the end of our four month review.
PounceBet Review: Automated Betfair System
WinnerOdds Review: Value Tennis Betting Tips Software
---