Tennis Profits is a Betfair tennis trading service featuring the most comprehensive tennis stats database available anywhere.
The service is a collaboration between Paul Shires, Matt Bisogno and our very own Steve Brown, who together had the aim of creating the best tennis trading website around.
If you have looked at trading tennis before, you will probably have come across Paul Shires over at TradeShark Tennis, where he provided tennis tips and an in-depth tennis trading course.
Matt Bisogno is the mastermind behind Geegeez, a horse racing form website with a wealth of tools for analysing races and researching betting selections.
Finally, Steve Brown from award winning football trading service, Goal Profits, is the third part of the team. I mention this for full transparency, even though he does not get involved with any of the reviews that are carried out here.
Together the team have built a resource containing everything that you need to start making a profit from tennis trading. It includes live tennis stats, alerts and live tennis trading sessions.
---
What does membership include?
Tennis Profits has so much to offer and alongside the tennis stats database, there is a live stats tool, beginner's trading course, tennis trading strategies and live chat trading sessions.
Don't have time to trade? Matt Bisogno is from a betting background and doesn't trade, but uses the stats to find set-and-forget bets. If you don't have enough time to trade, there are plenty of other opportunities.

He is a big fan of the Trading Stats Report (TSR), which he uses to find bets in 10-15 minutes per day.
---
Live Stats Tool
The Live Stats Tool is great for monitoring multiple matches at once and seeing alerts for key moments, such as a player breaking, breaking back, or missing consecutive break points.
Matches can be filtered by tournament type or you can build your own shortlist of matches to monitor.
There isn't currently anything like this on the market available anywhere else, with other sites forcing you to flick through each match individually to see the stats.
It is a gem for spotting in-play trading opportunities and keeping an eye on a number of matches at once.
---
Tennis Trading Strategies
There are a collection of tennis trading strategies available and they come with full instructions, including pre-match analysis, when to enter the trade and what to do if it goes wrong.
Using the Trading Stats and Trading Stats Report, it's easy to find suitable matches to trade.
For example, one of the strategies concentrates on stats such as first serve percentage, first serve points won, service hold percentage and break points saved. All of these stats can be found within the Trading Stats tool.
With the Trading Stats Report, you choose from several strategies and it will instantly show all of the most important stats that coincide with them. Alternatively you can choose to just display the key stats which can be sorted and filtered as needed.
The video archive in the strategies section contains a large collection of examples of Paul trading matches in past live streams, most of which are the same or similar strategies to those on the site.
There are also walkthroughs of the stats sections and how they can be put to use to research matches.
---
Live Trading Session Results
I attended a live trading session during the Wimbledon tournament and was able to make a profit from both of the matches that Paul covered.
The session lasted around 3.5 hours for two matches, but it would have been possible to just trade one match if short on time as they ran one after the other.
Had I been using £20 stakes, these two trades would have paid for a month of membership already. Good to know, but it's better to be safe than sorry, so I used small stakes for the two trades whilst I got to grips with how tennis trading works.
My maximum liability was around £2.50 in each one and this worked fine now that Betfair have reduced their minimum bet amount to £1.00.
It was possible to trade the matches using just the regular Betfair interface but it would have been much easier using software, so I would definitely recommend Fairbot or something similar.
Trade #1
The first move was to lay Gauff after Anisimova was broken, but it didn't quite go to plan as Anisimova began to struggle. I exited the trade for a small loss on each player.
I re-entered the market, laying Gauff again when prompted. This time things began to go our way and after several more moves advised by Paul, I finished up with an (almost) equal profit on each player.
Based on my maximum liability of £2.50, the trade finished with £1.62 profit, which was an ROI of around 65%.
Trade #2
This trade was quite similar to the first one, with a lay on Rybakina when she broke serve.
I was in a position to remove my liability later on in the match and then move profit over to Rybakina, which meant I had a free bet on her to win the game but would be level if Zheng won.
With Rybakina winning the set, I greened up and called it a day.
The trade finished with £1.33 profit at an ROI of approximately 53%.
I found the live session really useful and had the chance to get an insight into how Paul trades tennis matches.
Knowing when to enter the trade and when to make certain moves is difficult as a beginner, so it was really good to be able to follow along. I definitely recommend using small stakes or paper trading for the first time too, as it can be quite a learning curve.
Paul also runs some live streams from time to time, so you get the benefit of watching his trading moves live. Both the live stream and chat room sessions have their own pros and cons but both are extremely useful in different ways.
For example, the chat sessions allow Paul to instantly post advised trading moves, whereas the livestreams may have a slight delay on them. However, they are easier to manage and he has more chance to give insight to his thought process as he can just talk through the microphone.
---
Review Summary
Tennis Profits has so much to offer, whether you are new to tennis trading or more experienced.
As a beginner, you get a full course to get you up to speed with terminology, mindset, bank management and tennis trading basics. For the more seasoned traders, you will find the stats pages and live stats tool second to none.
Paul's live trading sessions are a great way to get an insight to how a pro trades tennis and are highly recommended.
The site is also home to fantastic community of tennis traders and there is plenty of support around, whether it is from other more experienced traders or from Paul himself.
The Tennis Profits team have put a brilliant service together and I can't imagine trading tennis without it.
---
Other Systems and Services which Passed
Fairbot Review: Betfair Exchange Trading Software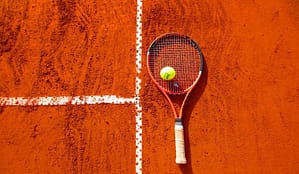 TradeShark Tennis Review: Trading Guide and Daily Advice
---
Goal Profits Rating

Rated 5 stars

Spectacular
---
Tennis Profits review

Reviewed by:

Published on:

Last modified:
---
Tennis Profits is a Betfair tennis trading service. It features the most comprehensive tennis stats database available anywhere as well as live tennis stats, alerts and live tennis trading sessions.